Award Highlights Continued Leadership on Behalf of American Servicemembers
WASHINGTON – Senator Jeanne Shaheen (NH) received the 2018 Warrior Protection and Readiness Coalition (WPRC) Sentinel Award for her unwavering advocacy on behalf of U.S. servicemembers, homeland security personnel, and the domestic defense industrial base. The Sentinel Award specifically recognizes Senator Shaheen for her work to provide high quality, American made gear and equipment to the Federal government at the best value to the taxpayer.
"It is more important than ever that those responsible with protecting our homeland receive the best available, American made equipment both in training and in operational environments," said Senator Shaheen. "Our service members, peacekeepers, and operational personnel responsible for our national security should be provided with the necessary tools to complete their missions. In the Senate, I will continue to advocate for American job creators committed to innovation by supporting legislation to improve gear and equipment for both military and Homeland Security personnel. I thank the Warrior Protection and Readiness Coalition for this honor and look forward to working together to achieve these goals."
WPRC Chairman Frank Montie said, "Senator Jeanne Shaheen has been an unwavering advocate on behalf of those responsible for the safety and security of the United States. Her leadership in the Senate has ensured that American servicemembers receive the best available, domestically produced gear and equipment at the best value to the Federal government."
David Costello, Executive Director of the WPRC noted, "Senator Shaheen is now leading efforts in the Senate to ensure that best-in-class, American-made equipment is provided to the operational agencies within the Department of Homeland Security. Her work on the Senate Armed Services Committee and the Senate Appropriations Committee has directly resulted in improved life-saving equipment for our servicemembers. The WPRC is honored to recognize this work with the 2018 Sentinel Award."
About the Warrior Protection and Readiness Coalition and the Sentinel Award:
The Warrior Protection and Readiness Coalition (WPRC) Sentinel Award is the association's highest honor, presented annually to policymakers who have demonstrated extraordinary support for the American industry that manufactures advanced combat clothing and equipment for the Armed Services and Department of Homeland Security.
WPRC member companies strive every day to provide innovative, advanced solutions to ensure that our armed forces are prepared for any encounter, anywhere in the world. Senator Jeanne Shaheen represents the State of New Hampshire. She serves on the Armed Services Committee, Appropriations Committee, Foreign Relations Committee, and the Small Business and Entrepreneurship Committee.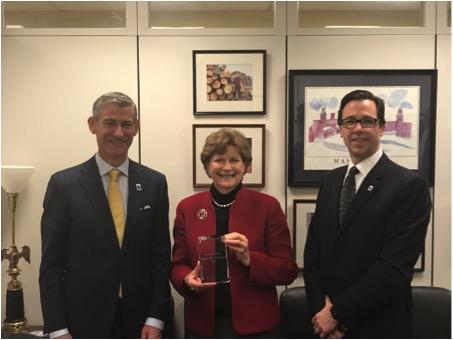 U.S. Senator Jeanne Shaheen accepted the 2018 Sentinel Award presented by WPRC Executive Director David Costello (left) and WPRC Chairman Frank Montie (right).